Answers to my prayers are not often in words, but sometimes they are. What seems like seven hundred years ago, I prayed in agony in the pews of an empty Roman Catholic Church, begging God for clarity about my vocation. It felt like my only prayer in those days, and I was sick with it. I just know I must be a priest, Lord, I'm so sorry.
And then there it was.
Do it. Do it. And have patience. You will always be welcome here.
There wasn't a voice floating down from the heavens. There wasn't an earthquake. There was just the sudden and clear recognition of these very particular words set gently into my consciousness from a place distinctly holy and distinctly Other. They were planted there, and their substance stretched out like roots. It occurred to me that I was ecstatically happy. The words brought warmth & solidity - a perfect, ripened, enduring peace. And - God bless it - I knew in that moment that this was a deliberate gift. I knew that I needed to remember this peace - to remember it forever - because it would fade, inevitably, and I would doubt it. Remember this for when you doubt it!!! I practically shouted to the vacant nave, luxuriating in the bliss at the same time as I perceived its impermanence.
What I knew then was that the specific imperative to "do it" meant that I should indeed be a priest. What I also knew was that "here" (the place of welcome) was distinctly tied to Roman Catholicism (I am still working this one out, but I must say, this has been true). What I did not know was that the "patience" I would require was not patience with the ordination process, with others, or with the Church. It was with myself. I still pray for it.
I know how all of this sounds. Speaking truly about prayer - about this prayer in particular - is impossible, because there was a time in my life when I was sure it would kill me. It was so raw. It was so full.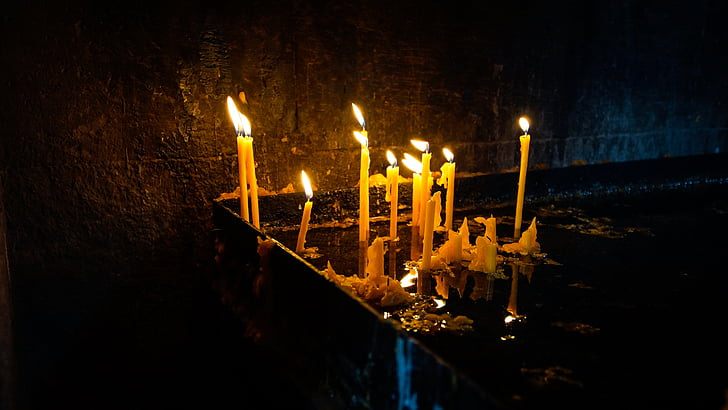 I consider myself a general skeptic regarding "visions" &c., and but I believe very much in miracles and very much in prayer and very much in Providence. And there have been, over the past seven years, several moments when I have stumbled, doubted, wept, and longed for nothing more passionately than to be swallowed by the earth when the remembrance of those words has pulled me upright again. Do it. Do it. And have patience.
Every time I have slipped into side chapels and knelt before the Blessed Sacrament in churches where I can no longer receive Communion, I hear it. You are welcome here.
I say all of this because this past month, seven years after that prayer in the empty church, my ordination to the Sacred Order of Priests was officially and finally approved. God willing, on December 21st, in that precious and purgative season of Advent, I will be ordained Christ's priest.
Today begins Hallowtide, which seems to me a time uniquely suited to meditating on the call of servanthood, holiness, shepherds, & Sacraments. We celebrate the Saints of the Church Triumphant and pray for the souls of the faithful departed. The veil thins between this world and what we perceive as the next (as it does in prayer, in Sacraments). Death is on my mind, but it is best left to another edition of this letter.
The Church has steeped these three sacred days in prayer. Please, pray for priests. Pray for me. I would be very grateful.
---
Immediately Relevant to Your Sanctification
On this Vigil of All Saints, you should read this beautiful reflection on death, dying, and grace from a hospital chaplain.

"Sometimes the soul feels so loosely attached to a body, like a tooth you could tie a string around and – slam! – dislodge. Other times the soul feels so securely lodged in a patient that you expect heaven itself to descend and lift them both together behind its jeweled walls, into its duskless day…"

The Guardian has a striking series of photographs of Día de los Muertos celebrations in Mexico.

Back in Los Angeles, one of the most moving liturgical celebrations I ever experienced was a multicultural, multi-lingual Day of the Dead commemoration on the evening before All Souls'. I never made it to the massive festal service/party in Hollywood Cemetery, alas.

Do check out this Medieval Fantasy City Generator

If you're reading this, I imagine we have at least a few things in common. Perhaps you, like me, were (are) one of those kids obsessed with the etched maps in the first pages of fantasy novels. You don't need to be an RPG/D&D enthusiast to dig this weirdly sophisticated city map generator. Be sure to note the instructions for customization options!

Fleming Rutledge gave a wonderful lecture at Baylor in September.

In case you missed it, you can view the whole thing here. It's worth playing during a commute or good walk around the neighborhood if you've got some amenable weather and a hunger for solid theological food.

I'm honestly not interested in debating women's ordination anymore - support it, don't support it, tell me why, or don't - Come over, have tea, come to church, God loves you. But I ran across this poem this week, and it is fire:
---
Communio Sanctorum
November 2nd: All Souls' Day
Some souls, on their merry way.
The introit for the first Mass of All Souls proclaims that familiar benediction,
Eternal rest give unto them, O Lord, and let light perpetual shine upon them.
Hear it chanted beautifully here.
November 16th: St. Gertrude the Great
Saint Gertrude by Miguel Cabrera, 1763
Saint Gertrude was a Benedictine abbess in Germany in the latter half of the 13th century. Her early life was spent studying at the local monastery school, and she entered religious life under the mentorship of St. Mechtilde of Hackeborn. She was a scholar of scripture and theology, but after a series of mystical encounters with God in her mid-twenties, she turned her attention to meditation and the composition of spiritual treatises. She is known for her passionate devotion to the Sacred Heart of Jesus and for her magnificent Spiritual Exercises.
St. Gertrude is also remembered for her dedication to praying for the dead, and she is a fitting companion for the season of Hallowtide.
---
Oratio
In a bit of an addition this week, I'd like to share a portion of those I am holding close in prayer. In your charity, please pray for:
those suffering from infertility and loss of children in miscarriage

California and all those affected by wildfires and natural disasters

families struggling to maintain relationships with one another

all who ache for relief from mental illness

the souls of the faithful departed
O Almighty God, the God of the spirits of all flesh, who by a
voice from heaven didst proclaim, Blessed are the dead who
die in the Lord: Multiply, we beseech thee, to those who rest
in Jesus the manifold blessings of thy love, that the good
work which thou didst begin in them may be made perfect
unto the day of Jesus Christ. And of thy mercy, O heavenly
Father, grant that we, who now serve thee on earth, may at
last, together with them, be partakers of the inheritance of
the saints in light; for the sake of thy Son Jesus Christ our
Lord. Amen.
- BCP, p.486